This review is based on just one episode of the book ( though I have read two of them ) .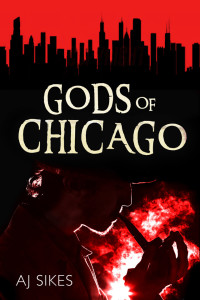 Gods of Chicago is an adventure of noir urban fantasy. Hardboiled newshawk, Mitchell Brand, has the scoop on the crime of the century, the Saint Valentine's Day Massacre. Digging after every lead he can find, Brand wades knee-deep into a world of gangsters and G-men locked in a power struggle for control of the city. The bodies pile up and Brand worries that he's bitten off more than he can chew when his newsboys are added to the stack.
A city magnate connected to the massacre commits suicide, and his daughter, reluctant socialite Emma Farnsworth, isn't willing to let dead men lie. After gunning for the mob, Emma and her lover, jazz player Eddie Collins, have to go underground to hide from the cops. In a deadly game of cat-and-mouse, Emma and Eddie will fight for their freedom and survival. If they're lucky, they might help a few others make it out alive when the Governor sends his army into the city's oldest neighborhoods with a single goal: clean house.
In devastated neighborhoods, citizens fight back and flee. Brand and his last remaining newsboy, Aiden Conroy, have to get the real story out on the airwaves. In scenes that take Brand back to the trenches of the Great War, he and Aiden must get the evidence the city needs to see the Governor for what he is. Through it all ride a corps of tramps on rusty bicycles, the mysterious Bicycle Men, and one of them has a message for Brand.
Hats off to Aaron for hooking me to this book not just in episode#1 but in just 5 pages. After a long time , I read a book that actually thrilled , felt fresh and made me forget the surroundings. It has the old charm of a western setting old novels with a hint of darkness looming just around the corner. I liked the character of Brand and more so his mode of transport. The people around him are very real and as mystical. I admired the way Aaron set the game rolling in the reader's mind from the very beginning and while he introduces and details his characters one by one, he gives a picture of the town and the forces in play there. Brand is much real hero here but it is Emma from the very beginning that wins my heart. Independent , loving , strong and yet much balanced and cautious females are loved always I guess. Every other page I finished , made me a real happy reader and I thank Aaron for this.
Rating
: 4/5
( More when I finish the book . *Goes back to reading* )
Meanwhile Please do check the book on
amazon here
and have fun reading !