The
book won the Edgar Award for Best Young Adult Mystery.
From the book cover :
She spots the masked man in the dark, lonely parking lot--but too late. Grabbed and drugged, Christina is kidnapped and held for ransom. When her family pays, she thinks her ordeal is over. But then she realizes that her family thinks
she
planned the kidnapping! How will Christina prove her innocence?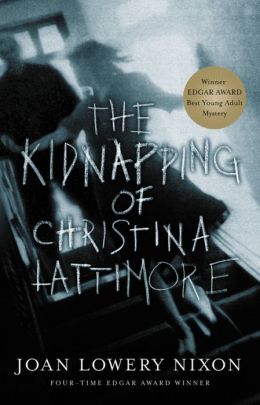 Nimue Says : First , I was surprised to find that the book was originally written about 30 years back. And thank god for that. After realizing i picked a YA , i was so afraid of all the hot kisses and all the hormonal action that usually takes place in most books. This one was clean , to the point and quite charming in many ways.
Christina is the kind of girl you can immediately NOT notice. She is a silent creature and though not much is told of her school life , you can imagine her to be studious and bright kind, but still not really social.
The book starts with her at her favorite place one Friday evening , waiting for her best and only friend , where the owner and his wife suddenly try to strike a conversation with her. Move on to her grandmother and later introduced to her family and people associated with them. One can easily identify why and when Christina went into her own shell over the years.
Same night , she is kidnapped and kept in a basement , though the kidnappers are too nice to her otherwise. The time she spends at that place , her thoughts and her attempts to escape or know more about her kidnappers is worth admiration. but then , is it not expected from her.
The real twist comes when the kidnappers are caught and they manage to prove that the plan was made by Christina herself to get money from her grandmother. since the police can not prove either this story or Christina;s true tale , the charges are dropped somehow and she returns home amidst all rumors and arguments between the family members.
Here you see Christina change as a person while she struggles to prove her innocence on her own. She is helped by a stranger Kelly.
The simple plot keeps you hooked enough to finish this book in 2-3 sittings. The end is not really a great show but still it answers everything in your mind. It might get a little predictable if you pay good attention but I admit I was quite taken by surprise for one twist.
Give it a read to appreciate that even 30 years back YA novels had great heroines who learned to defend themselves and grow as an inspiring characters.
Rating : 3.5/5